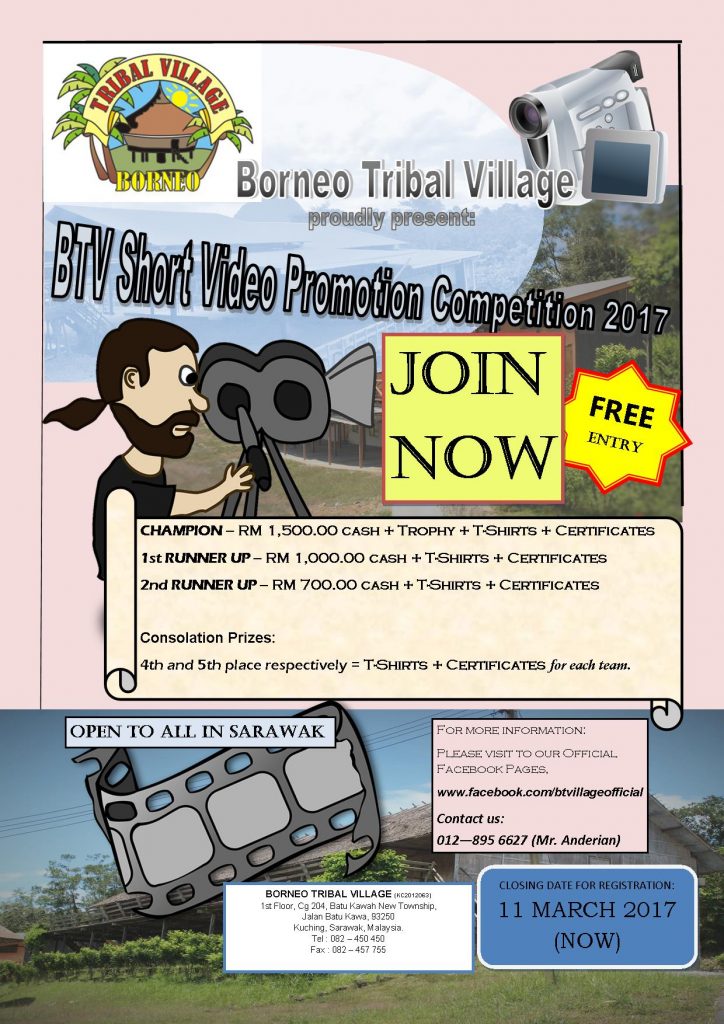 Open to all public and students in SARAWAK ONLY.
Students below 18 years old must acquire the permission from their parent and from the school or universities before participating in this Borneo Tribal Village Video Promotion competition 2017.
The entry fee for the competition is FREE. (Limited to 10 Team ONLY)
The video MUST be originally made by all of the team member.
The video MUST portrays the Borneo Tribal Village in Kampung Apar Singai, Bau and the video MUST be recorded at the Borneo Tribal Village itself and the route there to.
The usage of Borneo Tribal Village LOGO for the introduction is a MUST.
The video made shall be NOT MORE than 6 minutes in duration.
Minimum video duration is 3 minutes and maximum is 6 minutes.
We strongly urge you to submit videos that are less than five minutes.
All teams are encouraged to use their own quality materials and equipment for the video promotion.
All the registration form shall be submitted to the organizers before or on 11 March 2017 (Saturday) at 00pm (1200hrs).
All form shall be submitted to:
BORNEO TRIBAL VILLAGE (KC2012063)
1st Floor, Cg 204, Batu Kawah New Township,
Jalan Batu Kawa, 93250
Kuching, Sarawak, Malaysia.
Tel : 082 – 450 450
Fax : 082 – 457 755
Or Email to
borneotribalvillage2012@gmail.com
The team leader or representative MUST go for briefing on 11 March 2017 (Saturday) at 1.30PM (1330hrs).
Any participant involved in criminal activities during and after the video shooting will result in the group being disqualified.
No usage of harmful weapon, equipment and materials before, during and after the video shooting.
The video made by the participant must abide by the laws of Malaysian Legal System and local government policies.
The team leader or any representative from the team that did not go for briefing will be
Any team members that violate the rules and regulation (terms and conditions) will be DISQUALIFIED from the competition.
All the transportation, fuel, lodging, costume and other miscellaneous cost, before, during and after the competition shall be borne solely by the participants themselves.
FORM can be downloaded here -> Form
TERM AND CONDITION can be downloaded here -> Term and Conditions
EVENT details (click here) – > https://www.facebook.com/events/432516287094842/
FACEBOOK PAGES : https://www.facebook.com/btvillageofficial/