[vc_row][vc_column][vc_column_text]Taraaaaaa Taraaaaa Taraaaa…. Oooooooooo… Eeeeeeeeeeee!
Borneo Tribal Village is organising the first Borneo Tribal Fest (BTF) at the Borneo Tribal Village as its iconic annual event on 8th and 9th July 2017. The festival intend to showcase the culture and the life of the various tribes that exist in the State. The festival will also introduce tribal foods, games, cultural performances, costumes and traditions of tribes in Sarawak such as Iban, Bidayuh, Orang Ulu, Melanau, Sarawak Malay and others.
The festival is also held in conjunction with the Gawai Dayak (June) and Hari Raya Aidilfitri which also fall in the same month in addition to the official opening of the Borneo Tribal Village that will open full time to the public from July onward. This 4 in 1 BTF event is expected to be officiated by YAB Chief's Minister of Sarawak on 9th July 2017 at 10.00AM and is open to the public. Thus, all are welcome to this inaugural iconic event.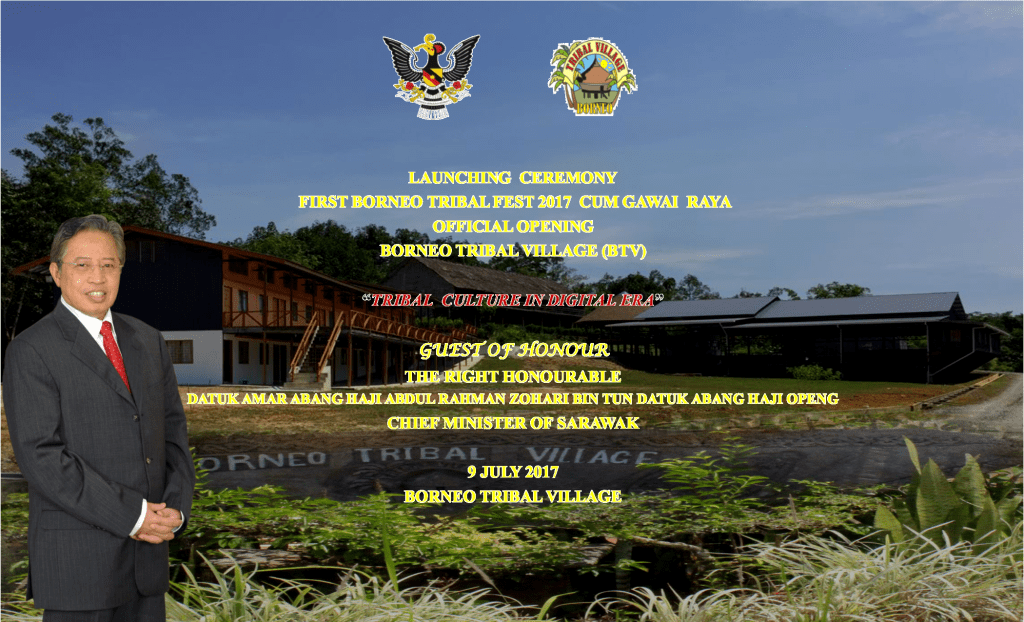 [/et_pb_text][et_pb_text admin_label="Text" _builder_version="3.0.51″ background_layout="light" text_orientation="left" border_style="solid"]
Programme for the First Borneo Tribal Fest 2017(BTF17) CUM Gawai Raya and
Official Opening of Borneo Trival Village (BTV)
DAY 1 : 8/07/2017 , SATURDAY
[table id=1 /]
DAY 2 : 9/07/2017 , SATURDAY
[table id=2 /] [/vc_column_text][/vc_column][/vc_row]